Made for busy individuals and organisations, nomad makes microbial sampling simple, reduces errors and hands-on time and produces accurate results, allowing you to focus on your business

Make CFU Testing Simple and Easy

nomad Microbial Testers allow you to run CFU tests easily in situations where microbiology labs, specialized equipment and technical specialists are not readily accessible. Testing with nomad devices minimizes up-front investment and requires no training or specialized equipment.
NOMAD TESTERS ARE DESIGNED WITH SIMPLICITY IN MIND

All-in-one sampling container, filter and culture media

No equipment necessary, sterilized and ready to use

Long shelf-life at room temperature, grid-marked filter and reading charts provided

Culture media selected for and tested on the most common environmental indicator organisms. Every batch is tested to deliver reliable recovery.

DESIGNED TO SIMPLIFY MICROBIAL ENUMERATION AND TESTING

nomad microbial Testers consist of two separate parts:

An outer plastic chamber used to collect liquid samples, and to protect the paddle. Each chamber carries 2 graduation marks, one for the 18 ml sample collection, and another 1,8 ml making it easy to dilute samples ten times.
A plastic dip test handle (paddle) with a gridded retentive filter an an absorbent pad
The pad contains dehydrated nutrient medium which allows organisms to reproduce.

The 0.45µm membrane filter is bonded to the nutrient pad which is heat sealed onto an easy-to-handle paddle
Each tester is sterilized and packaged in a sealed plastic envelope.

nomad Swabs also consist of two parts:
A polyester swap connected to a plastic handle

An outer chamber, identical to the tester chamber, containing a pre-measured 18ml of a sterile neutralising and diluting buffer solution
nomad Swab Test Kits combine a Tester with a Swab.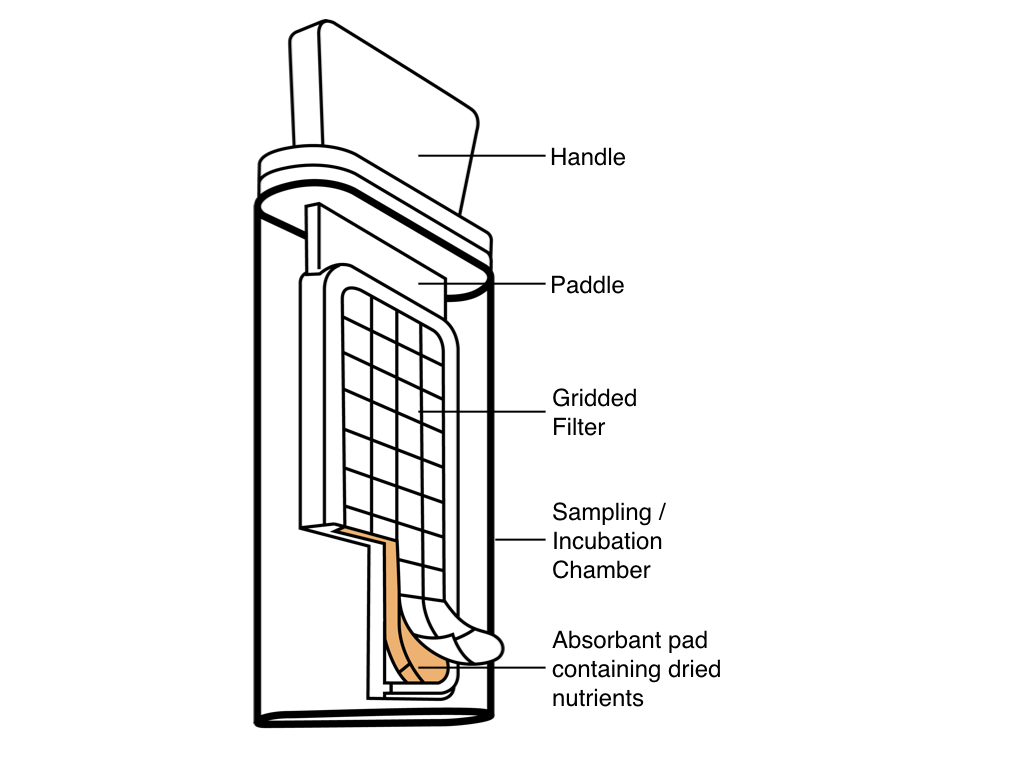 WANT TO KNOW MORE ABOUT OUR MICROBIAL TESTING KITS?
We'd love to hear from you to answer any questions you might have!

PERFECT FOR
HPC TESTING, COLIFORM TESTING AND YEAST AND MOULD TESTING

nomad microbial testers are color-coded for the micro-organisms they test for.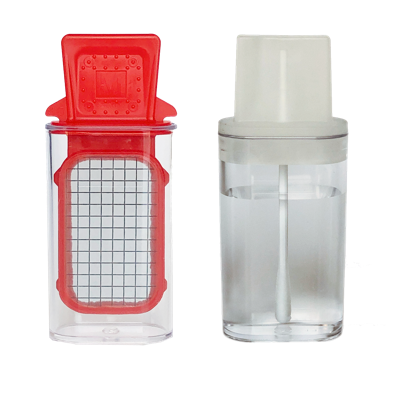 Our HPC testers are red and contain m-HPC medium for recovery of all oxygen-requiring or oxygen-tolerant bacteria, whether healthy or stressed (for example exposed to sanitants or heat or nutritionally starved).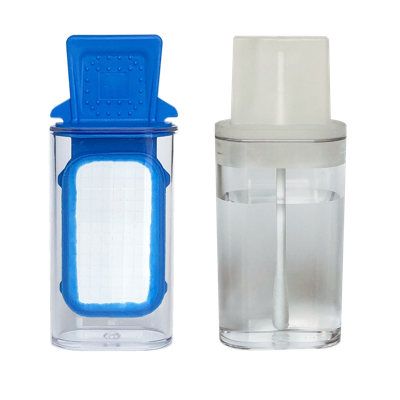 Our coliform testers contain a proprietary coliform medium for recovery of coliform organisms after incubation at 35˚C (to prevent too many non-coliforms from growing).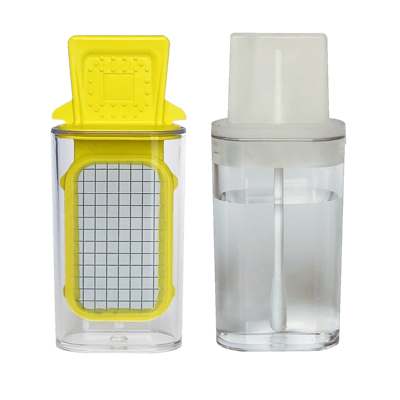 YELLOW YEAST AND MOULD TESTERS

Our yeast and mould testers contain m-Green medium for recovery of yeast and mould.

EASILY RECOGNIZE MICROORGANISM COLONIES

Thanks to our three different testers using different culture media, our testers make it very easy to recognize microorganism colonies of different types.

Here are some tips to help you recognize the colonies on your tester:
Bacterial colonies appear glistening and translucent or transparent, circular or irregular in shape, with colours varying from colourless to white, cream yellow or occasionally pigmented.
 Mould colonies often appear filamentous whitish grey, with fuzzy edges. They usually turn a different colour, from the center outwards
 Yeast colonies appear satiny, opaque, white coloured or may turn green over time.


On the Blue COLIFORM TESTER

Coliform colonies will appear blue or blue/green.
Non-coliform colonies may appear green, grey, or cream.

On the Yellow YEAST AND MOULD TESTER

Mould colonies appear white, green or brown/black and filamentous.
Bacterial colonies may appear but are usually smaller and more glistening and transparent than the yeast colonies.

WANT TO KNOW MORE ABOUT MICROBIAL MONITORING ?
Find out how to put an effective monitoring program in place in your industry.

HOW DOES NOMAD MICROBIAL TESTER WORK?

Using nomad devices is simple and easy, but be sure to follow the same protocol each time to get the best results.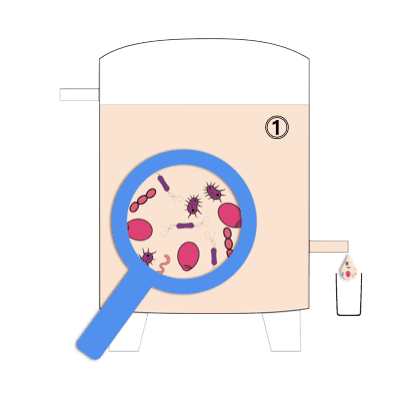 You should make sure that the liquid product you're testing is well mixed and homogenous, to make sure to get a representative sample. It's also a good idea to flush the tap or outlet from which you will be taking the sample, to ensure the sampling port does not add contamination to the sample.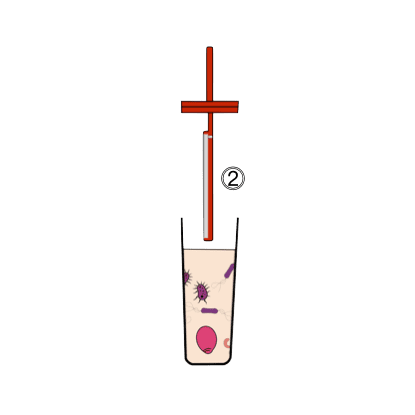 Collect liquid samples in the 18ml sample chamber. If you're collecting a swab sample, swab the area and then suspend the collected microorganisms in the provided 18ml neutralising buffer.
At this stage, hard-to-filter products (for example containing meat or cheese debris, fruit pulp, or emulsions) may require special measures to prepare the sample for filtration. You might decide for example to allow the solids to settle or to remove them using a sterile mesh or sieve.
For assistance and advice on how to prepare your sample, please feel free to contact us, we're be happy to advise you.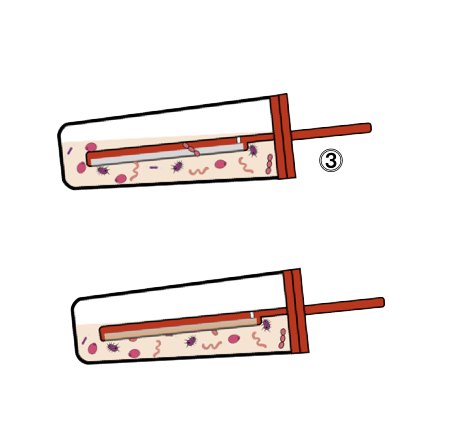 Drop the paddle into the solution containing the sample, and close the device. Lay the device down with the filter side facing down for 30 seconds.

During this time the pad absorbs 1ml of liquid through the filter surface, while air escapes through the vent located on the reverse of the paddle. This causes yeast, bacteria and mould to be firmly retained on the filter surface, and also rehydrates the culture medium which will feed nutrients to the trapped microorganisms, allowing them to grow and reproduce.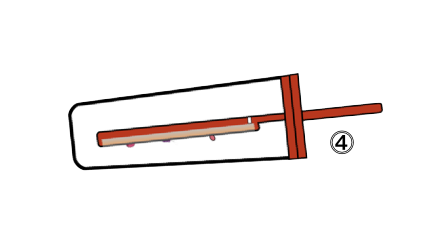 Open the tester and discard the excess sample liquid. Vigourously shake the paddle and the chamber to remove any droplets.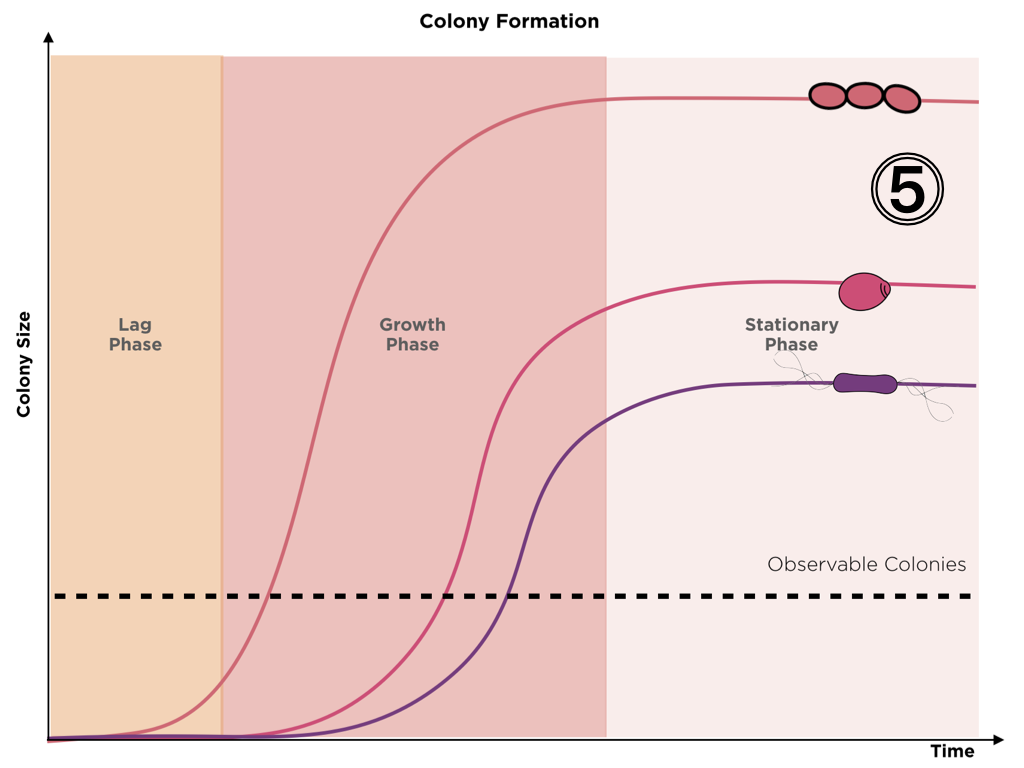 Place the paddle back inside the tester chamber, and close firmly. The tester contains enough air to allow for the microorganisms to breath during incubation.

Make a note of the time as the start of your incubation time.
Different microorganisms thrive in different conditions. Temperature, nutrient and oxygen levels will influence their growth, favoring some over others.

The red testers are designed for the detection of oxygen-tolerant, room-temperature-tolerant bacteria, in a stressed or normal state. When incubated at room temperature, most flora present in the environment will grow. Different microbial populations will grow at different speeds, and into different colony shapes: the shape and size of the colony, and the time of appearance give us clues as to which microbes are present in the sample.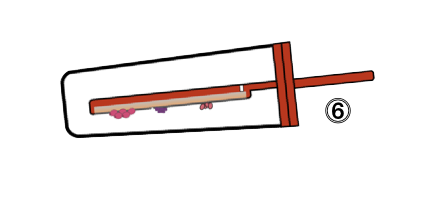 Microorganisms from the sample, trapped on the filter surface, multiply when conditions are suitable for their growth. Each strain will multiple at its own pace.

During incubation, each microorganism multiplies at the location where it was trapped, forming a colony. Since a colony is composed of growth from the original bacteria, colonies tend to take shapes that are specific to their kind of bacteria. With a little practice you'll soon be able to recognize which bacteria are "normal" or "unusual" in your sample, based on their appearance on the filter.

CFU testing stands for 'Colony Forming Unit' testing. This means we're testing the number of bacteria present in the original sample by the number of colonies they form when allowed to reproduce in ideal conditions.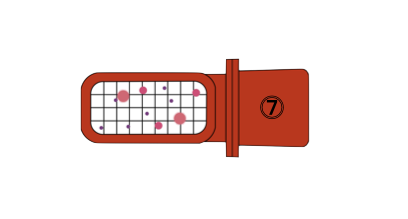 The number of colonies on the filter tells us how many individual bacteria were trapped on the filter during the test, in the 1ml sample absorbed by the pad.
There are several ways to count colonies:
If there are less than 10 colonies you can simply count them and record the number
If there are more than 10 colonies, you can count in a semi-quantitative way by comparing them to the Count Chart. You could also count the number of colonies inside 10 grid squares and multiply that by 8.
Of course, even if there are more than 10 colonies, you can count them all individually, counting each colony following the grid lines on the filter, starting from one corner and working across.


The number of counted colonies can be recorded and reported as Colony Forming Unit (CFU) per sampled volume or surface unit.
In most cases, results should be reported in cfu/ml, since the sample volume is 1ml.

For coliforms, the standard is to report the number of colonies per 100ml, and the counts should be multiplied by 100. For example, 3 coliform colonies on a nomad should be reportedas 300 cfu/100ml.

For surfaces, the microorganisms are suspended in 18ml of buffer, from which 1ml is tested. The count should be multiplied by 18 and then divided by the surface-area tested, and expressed as cfu/cm2. For example, if the swabbed surface area is 6cm x 6cm, the surface tested is 36cm2. If the count is 8 cfu on the tester, the result is 8 x 18 / 36 = 4cfu/cm2.

We also provide guidance on getting the best data from your results.

ACCURATE MICROBIAL ENUMERATIONS

nomad Testers implement the tried and tested microbial culture method and use membrane filtration to test 1ml of test product.
Composition of the culture media and format can vary slightly, and using different techniques can result in differences in results.

Each nomad microbial tester batch is tested for microorganism recovery.

For most applications, there is no microbiologically significant observable difference between nomad Testers and more expensive and time-consuming lab culture methods.
Learn more about CFU counting and how nomad can help your business.

DON'T JUST TAKE OUR WORD FOR IT!

In an independent laboratory, a study of the growth of microorganism strains on total count media, comparing nomad Tester and a reference laboratory method found no microbiologically significant difference between the two testing methods.

For E. coli, colonies appeared earlier using the nomad Tester than they did using the traditional lab-based MF method. Additionally, colonies merged with one-another later than with the standard MF method, which facilitates counting when a large number of colonies are being examined.
The study was conducted by Aérial, a Technology Resource Centre and Technical Institute for Food Industry, an independent laboratory) in june 2018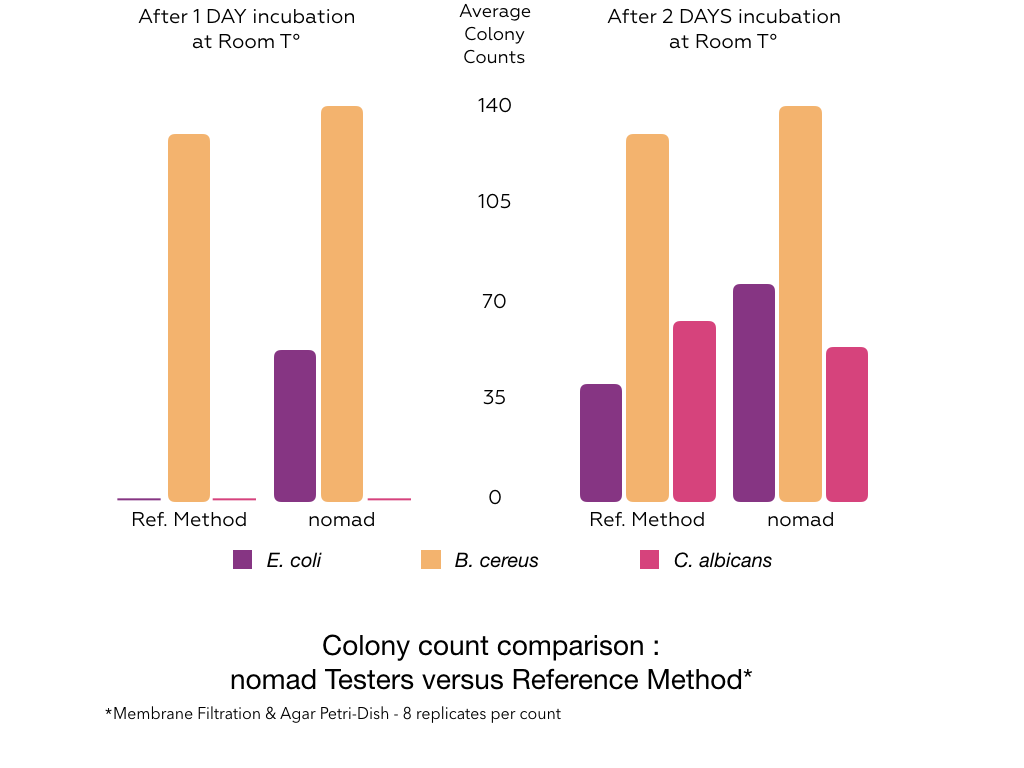 WANT TO GET STARTED?
ORDER YOUR NOMAD TESTERS TODAY!

Get started quickly, no specialized training or equipment required!