ENVIRONMENTAL MONITORING PROGRAM PERFORMANCE

How to know if your environmental testing program is delivering results

If you're looking for certified results to comply with mandatory regulations, you should skip this section.

If you're looking to understand your results by yourself, read on!

Microbiology results can vary quite a bit depending on the sampling and testing method used.
For your data to be exploitable, your results should be reproducible. In addition, you should take inspiration from standard methods used in order that your data is comparable to other public data.

SETTING YOUR OWN LIMITS FOR YOUR BACTERIA EXPERIMENT RESULTS

In many cases, indications of contamination levels considered "normal" or "acceptable" already exist. Regulatory bodies, industry associations or equipment suppliers can provide helpful guidance until you have enough data to set your own acceptance limits.

Stored, distributed or treated water: simple!

Municipal water delivered to a factory or facility is tested and "guaranteed" to have a Total Microorganism count of less than 100cfu/ml.

The water used in your facility after storage and/or processing should have a total count of 100cfu or less, otherwise there is potentially regrowth somewhere on your site.

A single test with the red nomad Tester will give you a good indication of whether there is an issue.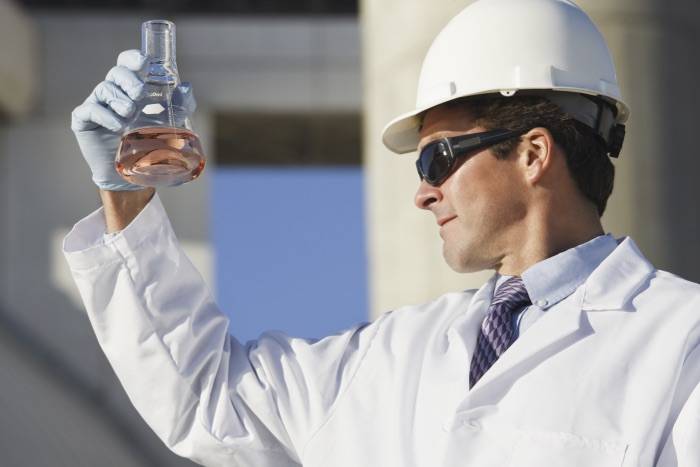 STANDARDIZING YOUR ENVIRONMENTAL MONITORING PROGRAM

If you follow standard practices, you can check your results against results which are generally accepted as normal or acceptable. ISO standards are a good source of inspiration for standardizing your monitoring practices. You can obtain these in English at a competitive price from the
Estonian Center for Standardization On-line shop
.
If you follow standard practices, you can compare your results with standards too to have an idea of how you're doing. For example, in the ISO guides the airborne contamination threshold for each grade of clean room is specified. And below you can find the guide thresholds for water and surfaces.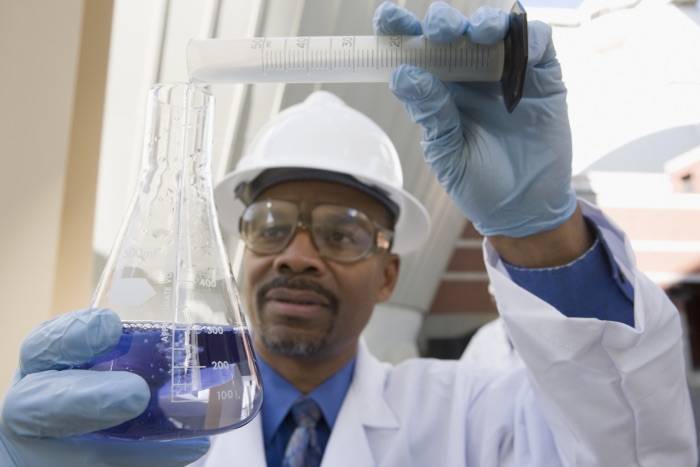 Test until you have sufficient data to draw conclusions by eye, with graphs or using statistical analysis.
Remember: the most powerful data is home-grown

UNDERSTANDING YOUR MICROORGANISM COUNTS

Your equipment, environment, facility and product(s) are unique and specific to you. Any given microbial count may be acceptable in one product, or for one type of customer, and not acceptable in another product or for a different customer. For example, a given yeast count in a non-sparkling wine may be acceptable if the wine is to be consumed locally. However, the same count may not be acceptable for overseas export where the wine may become carbonated during lengthy transit because of the yeast still in the bottle.
Most of the time, your environmental testing program's goal will be to monitor normal operations and alert you to any abnormal situations. For this to work, you should monitor your microbial counts and record the data during normal operating conditions. Using average counts and standard deviation, you can constitute a baseline, and keep an eye out for outliers or unexpected spikes in microbe activity, that might indicate a problem.

WANT ADVICE ON SETTING UP A ENVIRONMENTAL TESTING PROGRAM WITH NOMAD?
We'd love to hear from you to answer any questions you might have!

Acceptable COUNTS for treated water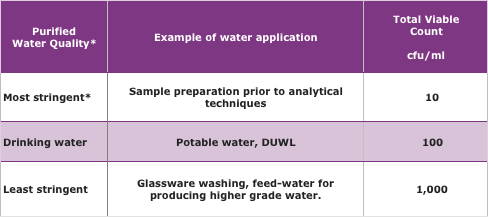 *excludes Sterile Water, Water For Injectables and ultra pure water for semi-conductor industry
These are indicative values. Standardized values can vary depending on standards organization and water purpose.
Acceptable COUNTS FOR CLEANROOMS


*standards may vary significantly by country, activity and legislation
Acceptable COUNTS FOR UNTREATED WATER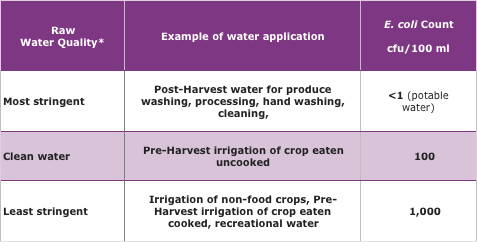 *standards may vary significantly by country, activity and legislation
For purified water and clean room testing, red nomad Testers and kits are recommended. Blue nomad Testers are appropriate for some untreated water applications.

Learn more about other nomad applications.

EXAMPLE ENVIRONMENTAL MONITORING PROGRAM AND SAMPLING PLAN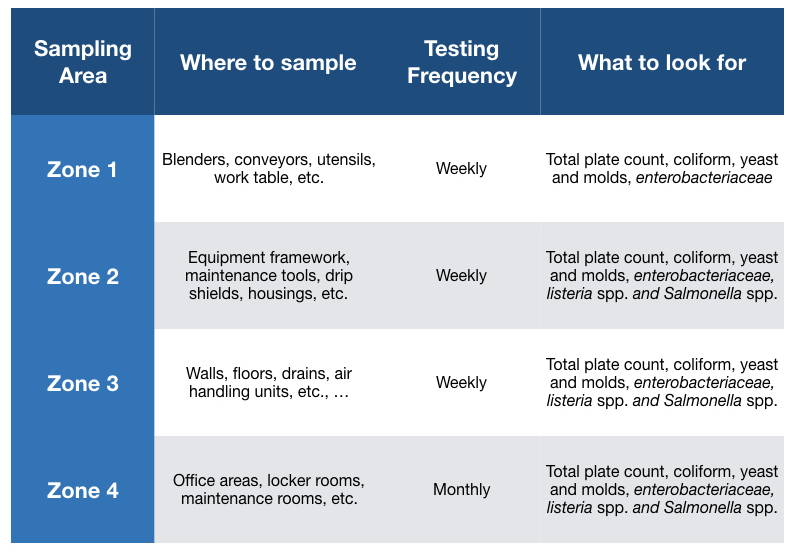 It is recommended that food manufacturing facilities customize their EMPs after careful evaluation of microbial risks associated with their products and in compliance with the regulatory guidance and standards. Sampling frequency, type of indicator microorganism and number of samples per area can be modified after reviewing the results and assessing the effectiveness of corrective actions.
Ref : AIB Update Nov/Dec 2013 (Association of Issuing Bodies)
WANT TO GET STARTED?
ORDER YOUR NOMAD TESTERS TODAY!

Get started quickly, no specialized training or equipment required!