Simple, automated and streamlined microbial monitoring and management system for industry
The first connected testing solution for end-to-end microbial risk management
A complete solution with monitoring tools to collect and manage microbial on-site testing data for hygiene, environmental and investigation sampling plans and audits.
Build an insightful data history to understand and prevent microbial contaminations, pen-free.
The nomad Smart Microbiology System makes on-site testing and data management easy, anywhere, for any size company.
nomad Smart Microbiology is the fully networked testing solution for end-to-end microbial risk management
Autonomy and traceability
Connected devices and mobile Apps

Savings in time and costs
Paperless, with no sample transport or investment
Online services and experts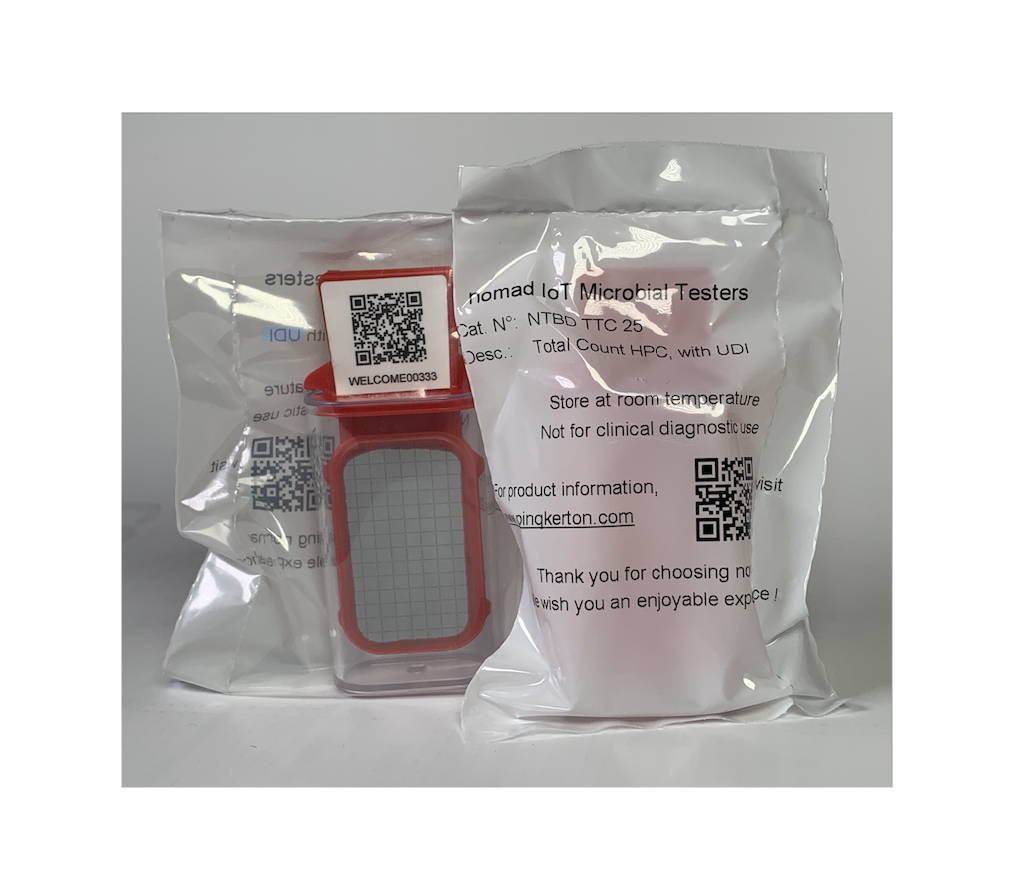 Recognised by the Mobile App

User guides adapted to the specific test devices in use




Complete traceability of the device without paper or pen




Reduces the risk of error and confusion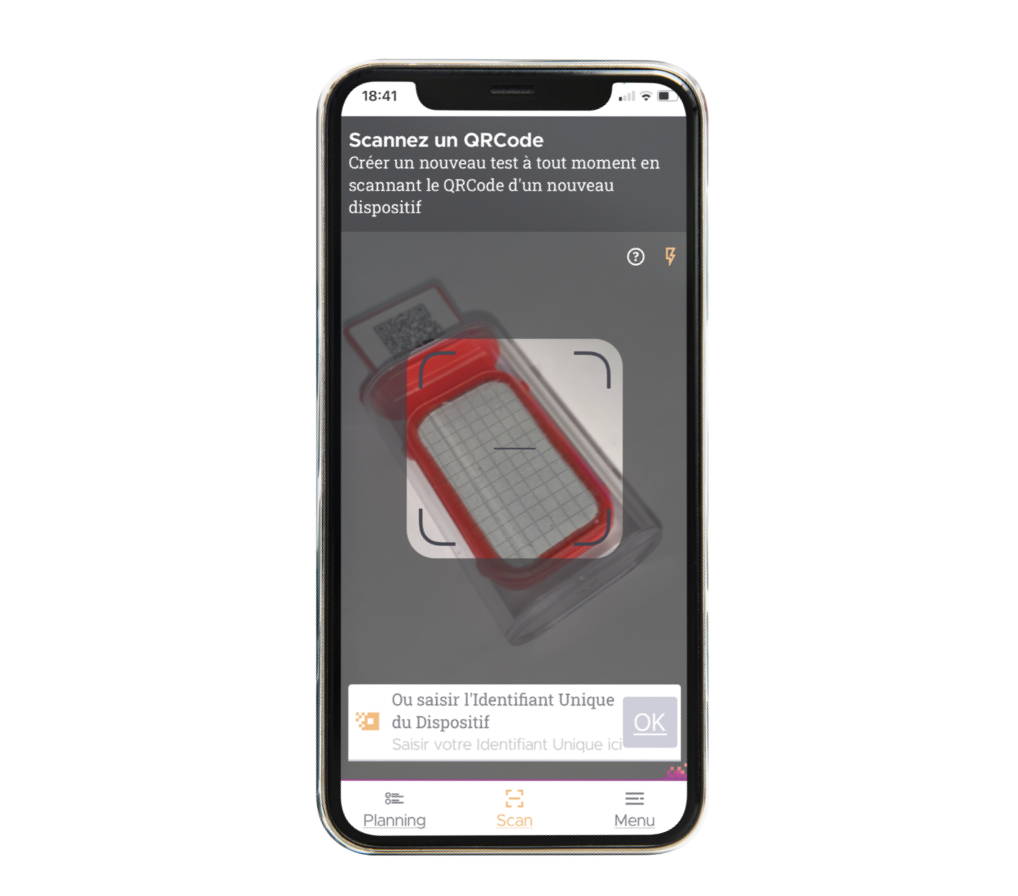 User guide adapted to each stage of the test
Comprehensive data recording from sampling to result
Image and comment capture at each stage, without any need to take notes
Export to user web account
Reduces the risk of errors and omissions
The remote control center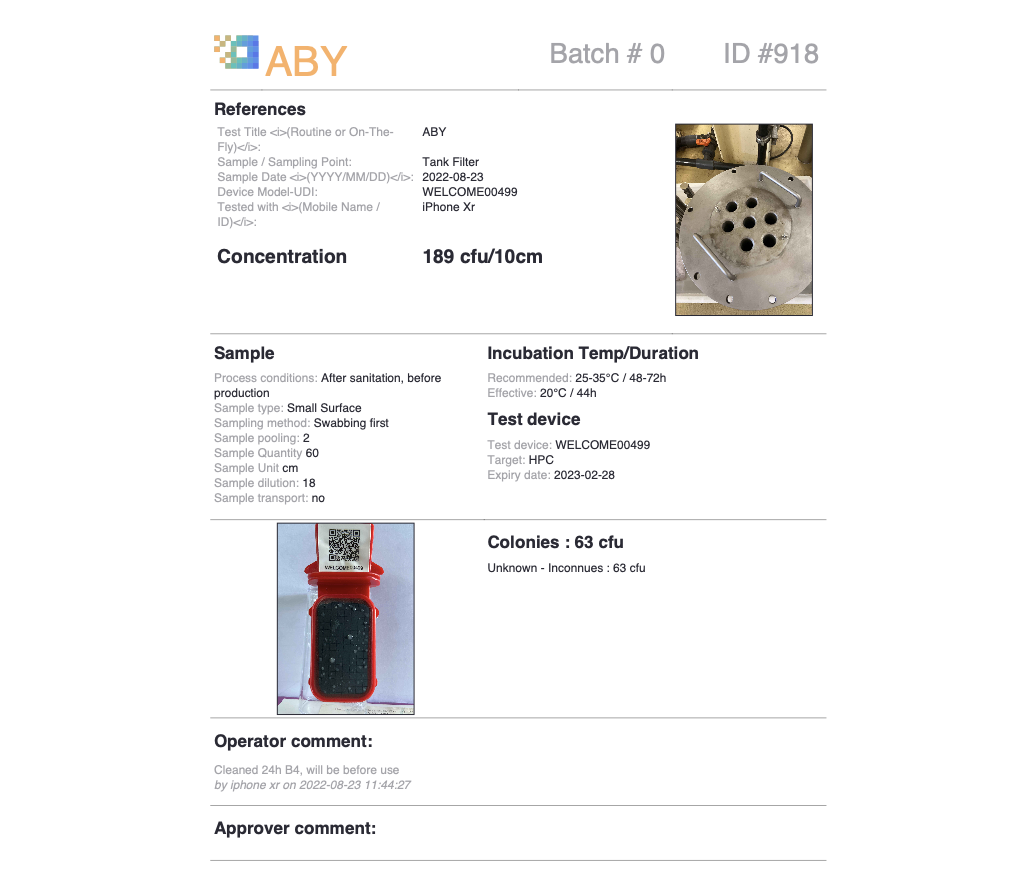 Automated processing of results
Automatic colony counting
Standardised results
Trend monitoring and alert levels
Plant Mapping
Dashboards
Result sharing between sites, users or with experts
Builds and stores a complete history of results
Guidance through implementation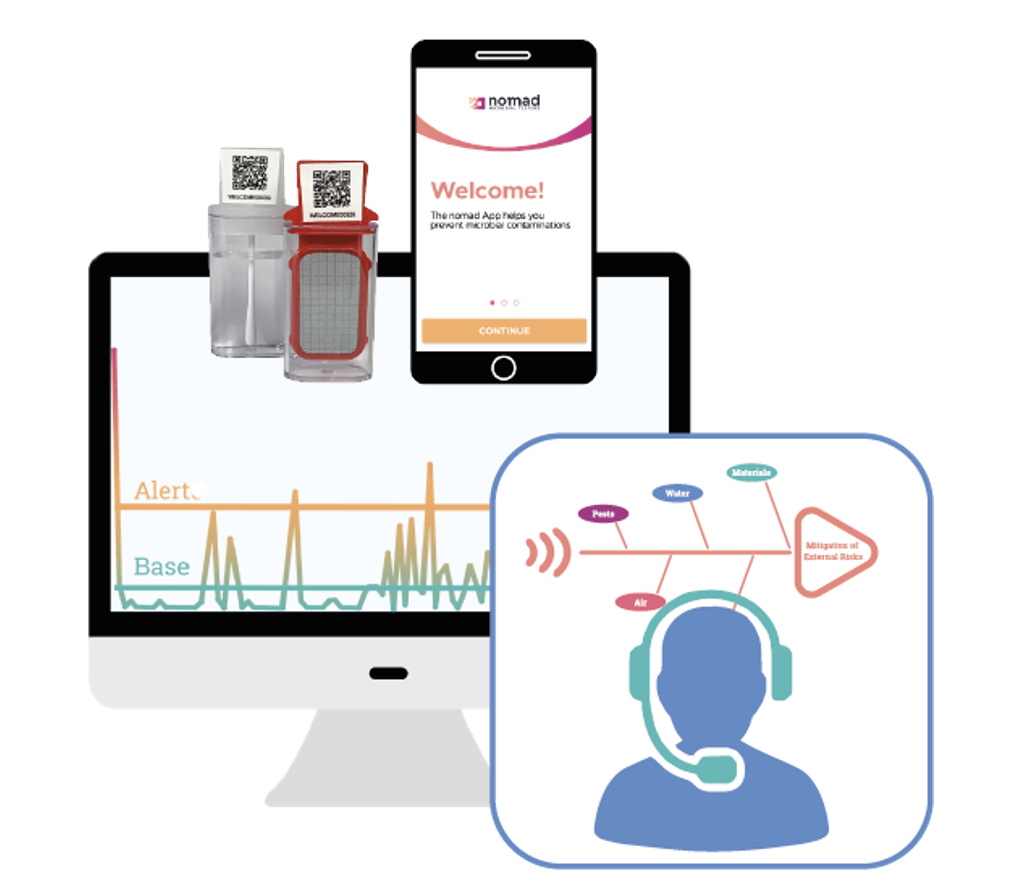 Risk assessment
Sampling plan
Discussion of results
External opinion
THE NOMAD SMART MICROBIOLOGY APPLICATION SECURES AND SIMPLIFIES ON-SITE INSPECTIONS PERFORMED BY THOSE CLOSEST TO THE OPERATION
An easy-to-use expert system for collecting and analysing automated results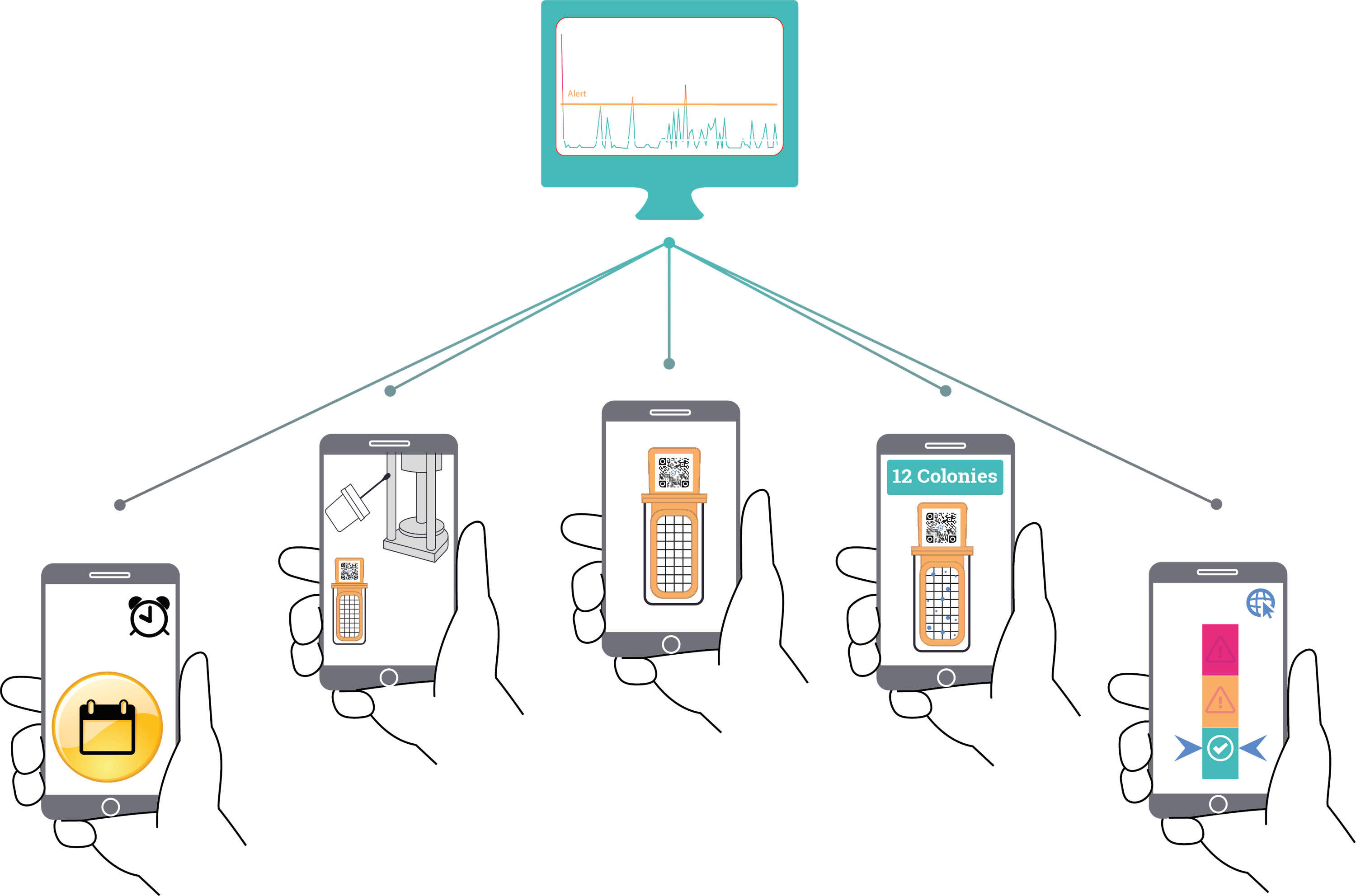 The nomad mobile application is designed for automated data collection:
• Test device information (UDI, expiry date)
• Sampling point (name, photo and GPS position)
• Type of sample and sampling technique used
• Information on the equipment tested
• Test protocol and parameters
• Temperature and incubation time
• Results
• Operator comments (text, voice recording and images)
It records all the information about the test environment needed to fully understand the results of on-site tests.
NOMAD IOT TESTERS AVAILABLE WHENEVER YOU NEED THEM, WITHOUT PREPARATION
Pocket-sized nomad IoT microbial test devices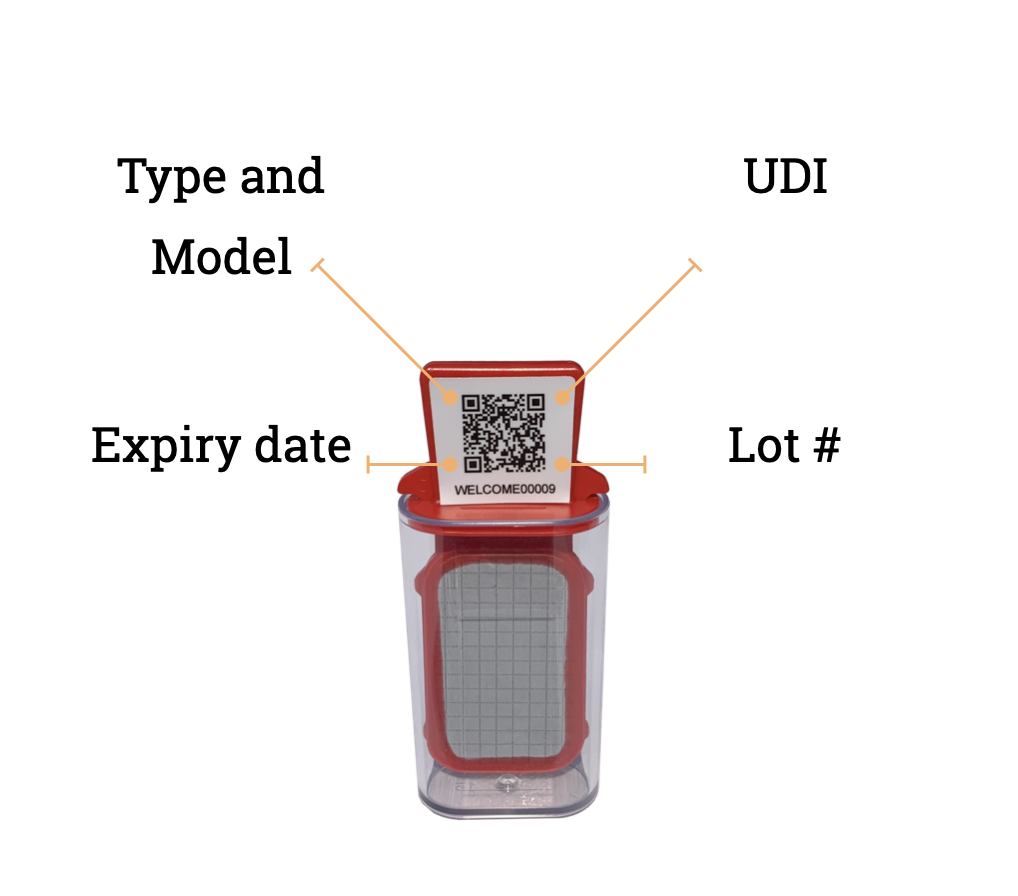 nomad testers are always easy to use, anytime, anywhere.
Microbiological testing typically involves careful sample handling, transport, analysis and documentation - tasks that are daunting and prone to error.
nomad devices and Apps manage these activities by applying best practices in quality assurance, microbiology and process monitoring, so you can obtain the relevant information effortlessly.
nomad IoT test devices are designed to "test and forget", so your concentration can stay on the task in hand:
• Easy and intuitive to use
• Painless, pen-free traceability
• Built-in security against misuse or re-use of devices
• Step-by-step monitoring throughout the test protocol
Online services for managing and analysing microbiological analysis results with nomad Smart Microbiology
A result is only meaningful when it can be compared with previous results, with a baseline, or with a different situation.
nomad Smart Microbiology online services automate the processing, standardisation and organisation of results, to simplify their analysis.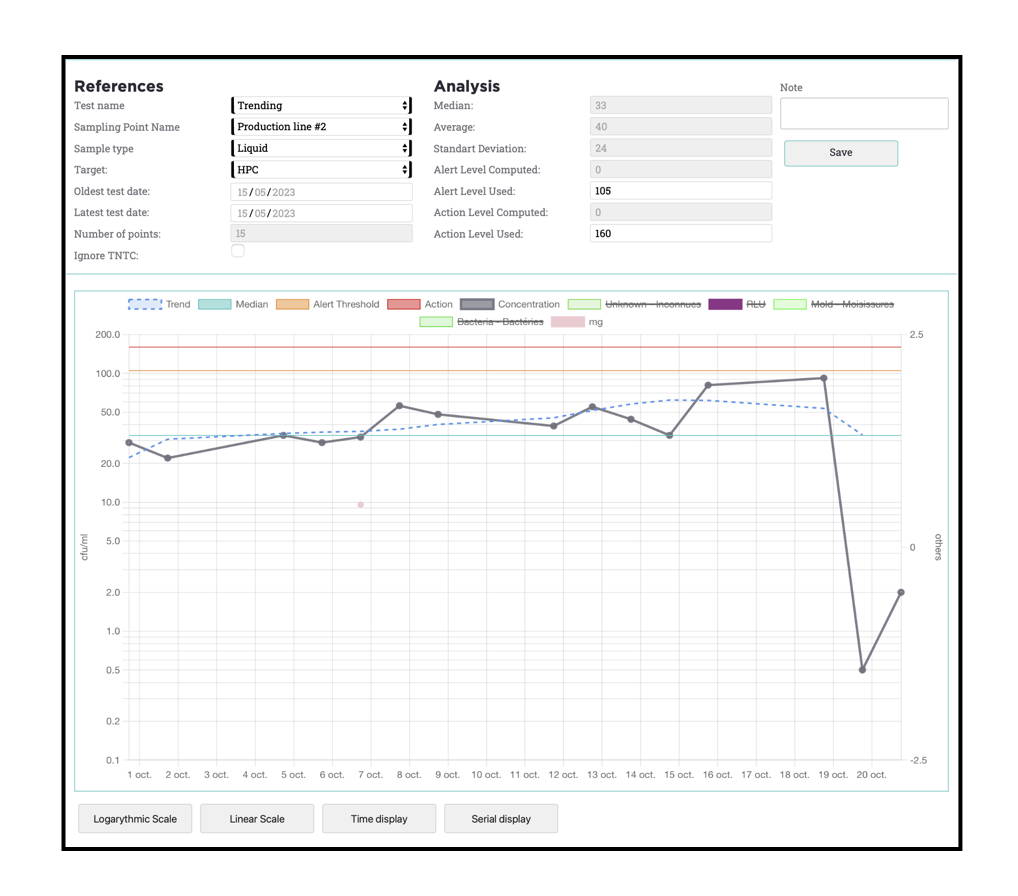 The available functions include:

• Management of User and Mobile Device access and rights for the online account
• Recording of data transmitted by devices associated with the account
• Automated counting of colonies
• Individual analysis report
• Data export
• Trend analysis
• Alert and action level settings
• Comparison of results from different analyses (cfu and pH, RLU, T°, etc.)
• Plant Mapping
By regularly monitoring the various stages of your production line and the effectiveness of your maintenance and cleaning processes, you build up a track record of results. Based on this knowledge capital, alert levels can be established and fine-tuned, maintenance and cleaning regimes optimised, deviations detected, and training adapted to reinforce your operations.
nomad Smart Microbiology is the fully networked testing solution for end-to-end microbial risk management
The nomad QUICK-START Pack includes a personalised expert advisory service to speed up the deployment of control plans, and is designed to lighten the workload of overworked specialists and those who are not yet experts.
Services are provided through a series of video conference calls (in English or French) with :
o Understanding your objectives
o Risk assessment
o Designing a monitoring plan
o Practical aspects of sampling and analysis nomenclature
o A review of the results history and the control plan at the end of the period
They take place over a period of 2 to 6 months, in order to complete at least one Prepare/Measure/Analyse/Optimise cycle.
Packs include the test devices and access to the mobile and Web Apps needed to carry out your sampling plan over the time period.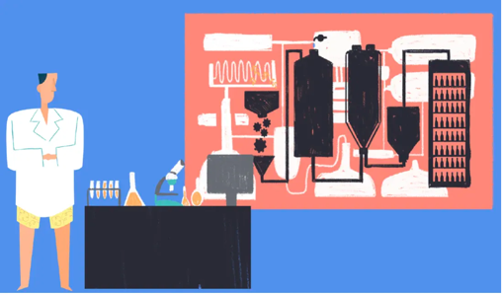 Strengthening operations and developing knowledge through data analysis
In the past, you had to be an expert to prevent the contamination risks specific to a site, a production process and a product, depending on current practices and circumstances.
The nomad Microbial Risk Management System transforms access to the information needed to understand the behaviour and effects of micro-organisms on a production site. Thanks to digital technologies that enable knowledge to be accumulated and shared automatically, each company can acquire its own expertise and be autonomous.
By collecting results in their production context, combining routine samples with those prompted by an unusual situation, and comparing microbial analysis results with those from other techniques, the interactions between a production facility and the microbial ecosystem that surrounds it become understandable and exploitable.
What are the practical applications of the nomad Smart Microbiology system?
Monitoring microbial load in production
For production managers, analysis of the microbial load from raw materials to packaging provides information on the contribution of each operational unit to compliance with the tolerances set for the finished product:
• Influence of the holding time and temperature of an intermediate product
• Influence of cleaning frequency and preventive maintenance
• Effectiveness of operations to reduce the microbial load (pasteurisation / filtration)
• More…
For hygiene managers, the analysis of hygiene indicators provides information to better understand the microbial environment and the performance of hygiene procedures:
• Correlation between rapid hygiene measurement techniques and microbial load
• Effectiveness and enhancement of cleaning and disinfection procedures
• Detection of microbial outbreaks likely to spread to controlled areas through cross-contamination
• Staff training and awareness of hygiene compromising actions
The conditions that encourage microbial proliferation on a production site are often based on multiple factors, depending on temperature, acidity, product composition and equipment settings. Analysis of the microbial load associated with these parameters makes it easier to identify high-risk conditions and take preventive action.
A stable microbial load over time indicates a situation that is under control, but sometimes with potential for improvement. The combined comparison of microbiological quality indicators and the practices of each site is a way of ensuring that the practices of all sites converge towards better quality.
Ready to start Smarter Microbiology ?
HAVE A QUESTION ? WE CAN HELP YOU !
Want to get started quickly, without training or dedicated equipment?
Looking to make the most of your digital monitoring Apps and services?
Need help setting alert levels or analysing results?
nomad test kits to strengthen your operations
and build your knowledge capital in preventing contamination