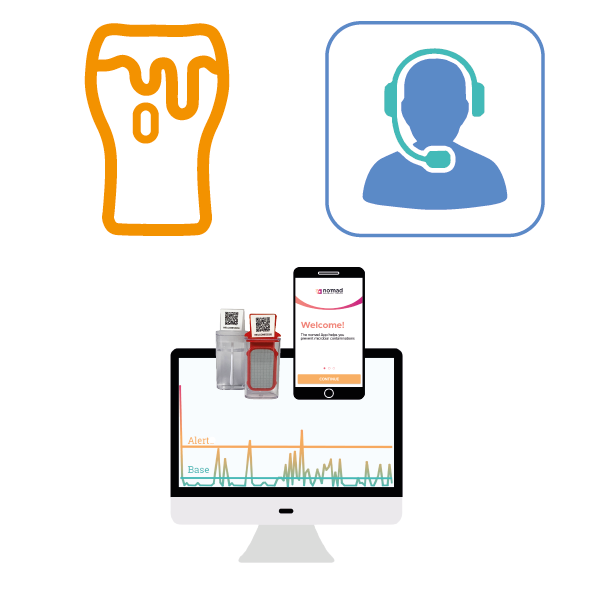 Hygiene Monitoring Pack for Craft Brewers - Reservation
Hygiene Monitoring Pack for Craft Brewers - Reservation
The appropriate Sampling Plan is defined and quoted for after the first 2 calls of the consulting services. The 500 € reservation charge paid when ordering this STARTER Pack will be deducted from the service invoice.
Item Number: NPCB HMS RS
Description :Accelerated implementation of a Hygiene-Environment monitoring plan for the management of microbial contamination risks 
Industries: Brewing Industry
Audience: Breweries of more than 1,000 hl/year wishing to set up a monitoring system to detect deviations, check and improve the efficiency of hygiene practices, the hygiene status of equipment, involve and value the work of those who brew (and clean)
Application: Building a history of results for process and environmental monitoring, reflecting the risk points for microbial growth and the effectiveness of hygiene practices and thus monitoring the risk of degradation of brew quality, brewery operations and consumer satisfaction
Objective: 
Collect 50 to 250 data points over 3 months of brewing, selected to:

establish the normal values and acceptable limits of the results at critical points
map the contamination at various suspect or sensitive points in the production environment
establish normal, deviant and abnormal values
Each data point consists of a microorganism count and a sampling context e.g. type of beer, equipment, recent cleaning history, other measurement records,...
Scope:
Hygiene & production environment, production control, contamination risk detection

 

Diagnostic tool for contamination, contamination risks, effectiveness of procedures and preventive measures, excluding treatment of causes.
Characteristics:
Development of a personalised sampling plan using a systematic method
Sampling and microbiological tests can be carried out simply, without equipment, on-site in production conditions, on-the-fly
Quantitative results of total microorganism enumeration equivalent to those obtained in the laboratory by culture
User guide, recording and processing of results by Applications, paperless and pen-free
Steps involved
Risk assessment (Brewery-BioMire)
Monitoring plan creation (BioMire)
Monitoring plan start-up (Brewery with BioMire assistance)
The brewery carries out the tests over a period of approximately 3 months (Brewery with BioMire assistance)
Analysis and recommendations for improvement of the monitoring plan (Brewery-BioMire) Interpretation of the monitoring information, suggestions for improvement of the sampling plan for routine testing and follow-up of corrective actions
Timeline (indicative)
:
Discovery meeting: 1:30 hour (video conference)
Planning and preparation for testing: 8 working days
Pre-analysis meeting: 1:30 hour (video conference)
Period of on-site testing and follow-up: approximately 3 months
Analysis meeting: 1:30 hour (video conference)
Analysis and report: 8 working days
Plan size estimate: a campaign of approximatively 150 information points
Apps
Mobile Apps are available from the App stores:
To open a free Online account with the WELCOME subscription plan